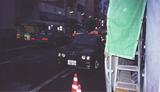 Finally, there's this scene. This is a bona-fide, only-in-Japan, now-that's-something story. So pardon the lengthy retelling...
I initially walked past the scene to the left. I got about 50 feet past it, then realized how special it was.
So, I walked the 50 feet or so back, and lined up to take a picture of it. Whoops! I was out of film. Rewind the film, remove it from the camera, fish around in the bag for the empty film case. Found it! Put that in, now fish around in the bag for the next roll of film. Find one, load it up. OK, finally get around to taking the picture -- and it's still there!
What is it, you ask? It's a brand-new shiny BMW, with the motor running, the doors unlocked, and the key in the ignition. This whole time, I didn't see anybody on the street -- I have no idea where the owner was. It was just sitting there. Boy, now that's not something you're gonna see a lot of in the U.S....